Furniture Design, Manufacturing Interior Design Project Service
29/04/2019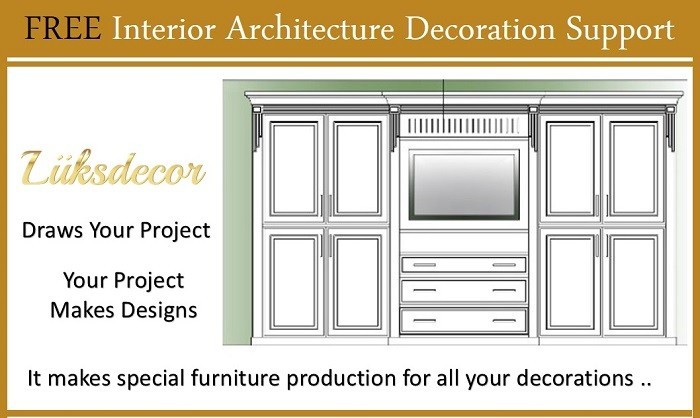 These are the on-site studies performed by our expert architects to evaluate the suitability of the place before moving to a new place.
While the market and regulations for the venues are examined according to all other regulations needed, on the other hand, the feasibility, approximate cost and program are given to the customer about the suitability of the space owner and the needs and needs of the operator.
All kinds of furniture designs that may be required for a space are designed specifically for the concept of that space.
Our furniture, produced in our workshop in the desired color and texture, is determined by the condition of the venue and the survey projects are prepared. Alternative concept projects are prepared according to the function chart in line with their needs lists and experience.
Concept projects, in which the issues of function determination, general layout and space structuring become clear, form the basis of practical projects with non-repetitive, original, contemporary, extraordinary and functional designs.
ARCHITECTURAL - INTERIOR ARCHITECTURE APPLICATION PROJECT SERVICE:
In line with the approved concept project, all infrastructure and superstructure projects that the space may need are prepared for implementation.
Turnkey project and application service; Our professional architectural staff, with our application teams experienced in decoration, we take care of all the details from A to Z and make your dream place a reality.
As a result of coordinated studies with you, concept and application projects are created in a short time.
The project is realized with our teams organized in accordance with the prepared construction site program. Our understanding of quality service; Creating original concept, quality workmanship and delivering work within the promised time.
Luksdecor offers projects and applications from a single source. This method allows the merging of design and construction programs.
In the design phase, our architects have delivered all the projects completed by our customer contractors with their perfect organization and their perfect organization.
SPACE SPECIAL FURNITURE DESIGN AND MANUFACTURING SERVICE:
All kinds of furniture that may be needed for a space are designed specifically for the concept of that space. Our furniture produced in our workshop in the desired color and texture, with its special mechanisms and accessories, makes our physicians experience the difference in quality and comfort for years.
Design and manufacturing services of the furniture are specially designed according to the location, in accordance with the company's corporate identity.
In addition to being remarkable and functional, the DECORATION will create the first impression of the business's trust and the right choice. The first seconds when customers enter the venue are the time when their first impressions about the venue occur. The corporate identity that will affect this impression should stand out with its different design.
All solution and furniture models are produced from the materials selected as the continuation of the concept and produced and assembled in our factory or manufacturing workshops.
Luxury Furniture Furniture & Architecture, Design, Manufacturing Services